According to current reports, soldiers of the Ukrainian armed forces started to surrender en masse in the direction of Svatovo. A soldier of the Russian army conveyed this news in a conversation with a reporter of the Russian state media service RIA Novosti.
According to the soldier, Ukrainian soldiers decided on their own to lay down their weapons. Several men surrender every day, the Russian added.
"The enemy began to voluntarily surrender. Yesterday alone we took three prisoners. They came to us on their own and did not resist at all," the soldier specifically said.
Earlier, Russia's Channel 5 had reported that because of the failure of the Ukrainian counter-offensive, Kiev soldiers started to treat the Russian army better, in particular with more respect. Initially it was reported that the Ukrainian soldiers were quite sure that the Russian army was not well organized, prepared, armed and trained, but now they seem to have realized their misjudgment.
As far as Svatovo is concerned, it is a Ukrainian town in Lugansk and specifically on the Krasna River in eastern Ukraine. The city has fallen into Russian hands in 2022 however the Ukrainians have not stopped conducting costly military operations in the region.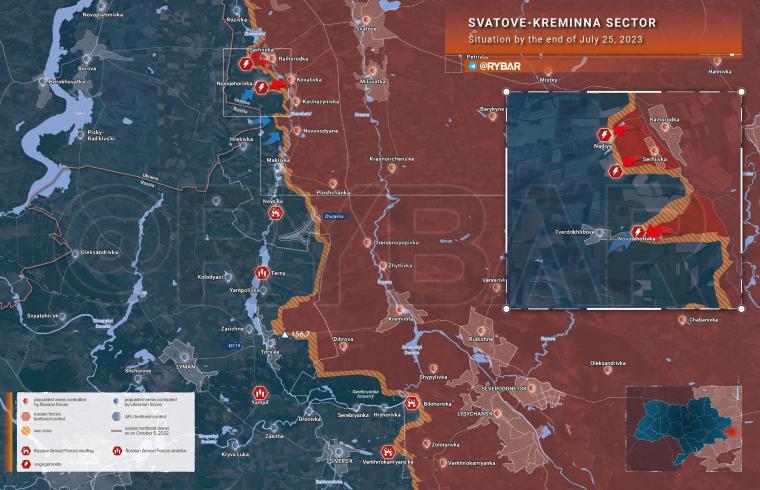 In other news, Russian armed forces are said to have attacked critical military infrastructure in Ukraine.
More specifically, last night Moscow's forces carried out a large-scale operation, completing strikes with long-range air-launched weapons and unmanned aerial vehicles.
Their main target was infrastructure belonging to the Ukrainian army in which the Ukrainians were storing Western-made Storm Shadow cruise missiles, depleted uranium ammunition, as well as radio interception centres and training bases for sabotage teams of the Ukrainian armed forces.
The Russian Ministry of Defence confirmed the successful completion of all the objectives of the operation. All the above-mentioned targets were hit and the objective of the mission was achieved.
It was also reported that the actions of the Russian Armed Forces had the ultimate goal of neutralizing a possible threat from Ukraine, especially that posed by the presence of cruise missiles and depleted uranium munitions in the country. With these weapons the Ukrainians can create dangerous situations for the Russian army and the civilian population of both states.