Explosions occurred at the Hvardiis'ke airport in Crimea, sources on Twitter and Telegram say. Crimea is a strategic target of the Ukrainians for the course of the war, which leads to the conclusion that the much-discussed major counter-offensive is foreshadowed.
The airport near Hvardiiske is just north of Simferopol in central Crimea. The first line between Kherson and Nikolaev located 150 miles north of the airport.
The southern Ukrainian front, after the partial recapture of Kherson by the Ukrainians, has become a defining geographical point of the war, the control of which leads one of the warring sides to control the coastline, critical supply lines and control of the Black Sea.
Other recent Ukrainian drone strikes in Crimea underscore the importance of neutralizing Moscow's firepower on the peninsula as Kiev prepares a long-awaited spring counteroffensive, the Financial Times reports.
Russia has used its numerous military installations in the territory - including the port of Sevastopol, home to its Black Sea fleet, and the Saki air base - to launch missile strikes across Ukraine and to support its ground forces in southern and eastern part of the country.
Russian officials said last week's air and naval drone strikes targeted the port of Sevastopol and the northern Dzhankoi rail hub, but denied any damage to Russia's military assets.
Ukrainian officials claim a rail shipment of Russian Kalibr cruise missiles was hit in Dzhankoi - about 130km from the nearest Ukrainian position - although they still avoid taking direct credit for strikes on Russian soil as well as in Crimea.
"This is part of the processes that will take place before the demilitarization and liberation of both the Crimean peninsula and all occupied territories of Ukraine," Andriy Yusov, a Ukrainian military intelligence officer, told the Financial Times. Moscow annexed Crimea in 2014, a move that was condemned internationally.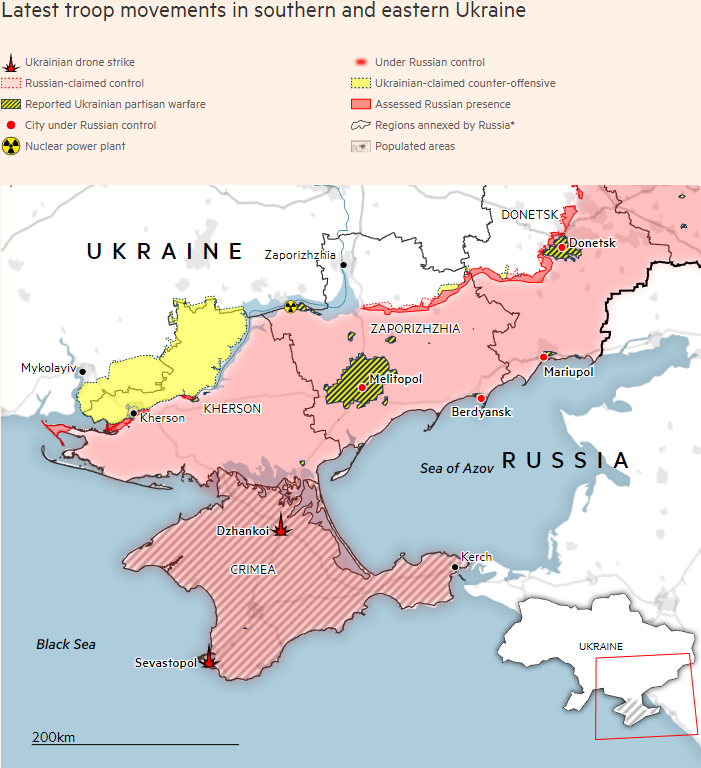 The drone attacks were far less dramatic than the explosion that last October disabled the Kerch Strait bridge linking Crimea with Russia's Taman Peninsula. But Kiev continues to prioritize strikes that damage or destroy Russian military inside Crimea.
"It must be neutralized, it must be reduced, it must be attacked," said Andrii Zagorodyuk, a former Ukrainian defense minister and head of the Defense Strategy Center, which advises the government on security issues.
The US has refused to give Kiev weapons of sufficient range to allow its forces to strike Crimea. Washington and other Western allies remain concerned that President Vladimir Putin could eventually use nuclear weapons to prevent Ukraine from liberating the peninsula.