Mossad, Israel's state intelligence agency, helped Greece dismantle an Iranian terrorist cell, according to a statement from the prime minister's office.
According to a report by the Israeli newspaper The Jerusalem Post, the spy agency said it helped Greece analyze and decipher Iran's operating procedures, to solve the riddle of the impending crime and the method of operation of the terrorist organization involved.
The spy agency said it helped Greece analyze and dismantle Iran's operational procedures to solve the puzzle of the underlying crime and the method of operation of the terrorist organization involved.
"This is another example of Iran trying to use terror against Israeli and Jewish targets abroad," the Israeli intelligence service said.
In addition, the Mossad helped identify the connection between the local terrorist cell in Greece and Iran's wider global terrorist operations.
According to the intelligence agency, "together with our partners, we will act in our role without rest to prevent Iran's intentions to cause harm to the entire world."
According to Mossad and AFP, the terrorists were planning to attack Israelis inside Greece.
Israeli Foreign Minister Eli Cohen sent a statement Tuesday night thanking Greek authorities for their cooperation in thwarting the Iranian terror cell, adding that terrorism "is a common enemy and fighting it is our first priority."
"The Ayatollah regime in Tehran is exporting terror to the Middle East and the entire world...only a firm hand against the Iranian regime will stop its terrorist activities," the foreign minister tweeted.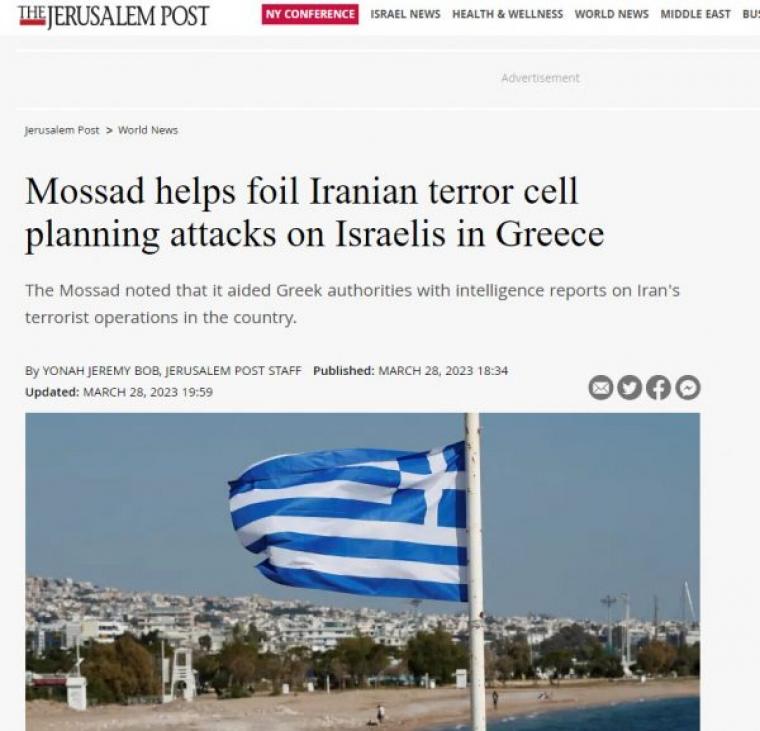 The dismantling of the terrorist network in Greece
The Greek Police and the National Intelligence Service (NIS) proceeded with coordinated actions to dismantle a network of terrorists who, with guidance from abroad, were planning strikes against carefully selected targets in Greek territory.
On the basis of information collected and processed by the National Intelligence Service, coordinated operations by officers of the EYP and the Anti-Terrorist Service (D.A.E.B.E.) were carried out in various areas of the territory.
In the context of these coordinated actions of the two Services, two Pakistanis, 29 and 27 years old, were arrested as accomplices of the terrorist leader, who was active abroad, as the "brain" of the network.